A Look Into RPG Club
The RPG Club at PVHS is a group of students that meet up weekly to play tabletop RPGs (role-playing games) together. RPG Club gives people the opportunity to have a break from their lives and have a good time with friends. Even during the pandemic, people can get together, albeit online, and have good fun.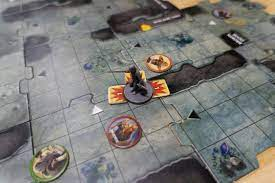 The RPG Club at Pahrump Valley High School is a group of people who meet every Thursday to play Tabletop Role Playing Games (RPG) together. The TTRPG hobby has spread far and wide, and has made a home for itself at PVHS.
The RPG Club is supervised by Mr. Williams, a computer science teacher at PVHS, however, the club itself is mostly student run and has been since its beginning in 2012. Mr. Williams states that it was formed by a group of students who asked Mr. Williams to supervise it. They then began to advertise it through word of mouth and putting up posters. This garnered some attention for the RPG Club and it has gained a decent amount of members, with twelve currently attending meetings.

Many members of the club joined out of curiosity or interest in the range of activities the club offers. The RPG Club hosts a wide range of tabletop roleplaying games, including Dungeons and Dragons 5th Edition, Pathfinder, and other games such as ones based off of Lord of The Rings and Star Wars. Before the COVID-19 pandemic, they also hosted live action roleplay (LARP). These activities are good fun for members of the club. Mr. Williams commented "The students really like having an artificial reality to socialize and have fun." RPG Club gives students an opportunity to have a break from life to have a good time with friends. Jacob Vincent, a member of the club, repeatedly stated that improv was a main draw of the club, allowing people to make their own fun. This freedom allows people to have a better, more enjoyable time at RPG Club.
The RPG Club has been heavily impacted by the COVID-19 pandemic. There are less members in the club and they have a harder time attending. Games can no longer be held in person and must be attended on an online video call. People may have trouble keeping up with what is happening in a game this way. Activities, such as LARP, cannot be held at all due to social distancing guidelines. Mr. Williams remains hopeful that things will improve in the future, stating that "We hope to be able to meet in person soon, and hopefully we'll have a few more members by then, too." 
Overall, the RPG Club at PVHS is a fun group for a great hobby. It provides an environment to meet new people and have a good time with them. It helps to illustrate a hopeful point of view as well. Even in the hardship of the COVID-19 pandemic, there are still fun and good times to be had with friends. If you wish to join the RPG Club, contact Mr. Williams in room 217 or by email at [email protected].
About the Writer
Hunter Larson, Journalist
Hunter Larson is a freshman and is passionate about the world around him. He hopes to learn more about events across the world and write about them. Hunter...