Around PVHS: Electives
Here at PVHS we have five year-long electives that all have their own unique qualities. The students and teachers in each of them are doing the best they can with the current coronavirus pandemic.
The Pahrump Valley High School has five, year-long electives that each have their own unique qualities and uses. These year-long electives include Weight Training, Leadership, Yearbook, Psychology, and Journalism. 
Hitting the Gym
Here at Pahrump Valley High School, we love supporting our athletes in getting bigger, faster, and stronger in order to perform well in their sports. To better support our athletes, PVHS has a Weight Training class where they can learn how to properly lift weights and get bigger, stronger, faster. Coach Rieger, the teacher for Weight Training, says, "I want students to learn the technique, being safe when performing all lifts. Students will become confident mentally and physically. Students will learn a good work ethic. Students will learn how to compete.  Winning isn't everything, but trying your best to be successful is." Many of the students in Weights love the class for its positive environment and great people. "There's a lot of people here that are motivated and push themselves." says Chris, a football player, and wrestler who has taken the class for three years now. Another athlete in Weights, Makani, says that "It really helps with sports and I also really like lifting because it helps me mentally, it's a de-stressor." In Weight Training, you will not only learn a lot about taking care of your body but also will have the time to focus on yourself. 
Leaders of Tomorrow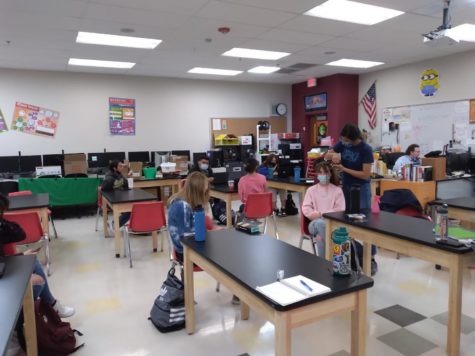 In order to effectively lead our school, the members of the Student Council all have to take the Leadership class. In Leadership, members participate in workshops, learn life skills, and create bonds with each other that none of them will forget. Brittany, the current Sophomore class representative, and the future junior representative says that she has learned 'better time management' and 'how to work better with [her] class in general.' Mikayla, the current student body president, says that there is a lot of "Fellowship, community. We're all kind of close, or even if we don't really know someone in student council we all kind of have that bond." She also says that joining the student council is "a good idea. Student council is a really awesome group to be a part of, you learn a lot of different skills, like from art to how to speak in front of people." Many who leave this class leave with more skills than when they started. Mr. Williams, the advisor for Student Council, says that "It is my hope that when students leave the leadership class, they have a greater appreciation for all the work that goes on behind the scenes of any event and that they are better equipped to handle all the many challenges life will throw at them. The purpose of education, in general, is to prepare students to meet life head-on and create thoughtful, confident, considerate members of society who know enough to make hard choices and create a better world."
Deep in Thought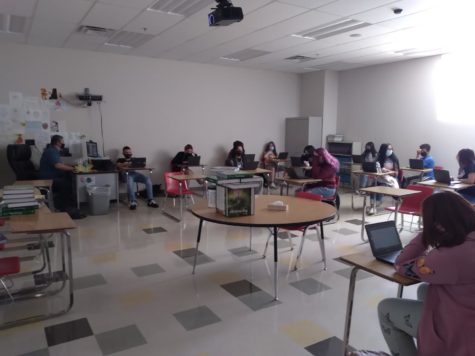 In this immersive and collaborative class, Psychology talks about the science of the human brain and the question: nature versus nurture. This basically asks if you act the way you do because of your genetics or because of how you were raised. While in this class, you learn multiple different answers to this question. The class is full of collaborative discussions and interesting thoughts. One student from the class said, "My favorite part would have to be the talks, or the discussions." And another student said that they enjoyed learning and "connecting the dots, like this person acts like that for a reason." According to Mr. Butt, the psychology teacher, says that the biggest challenge in this class is trying to see things from multiple perspectives and being able to question yourself based on what you know about your brain. Being open minded is a large part of the class, and being interested in it also helps make it more enjoyable."
Putting it in Perspective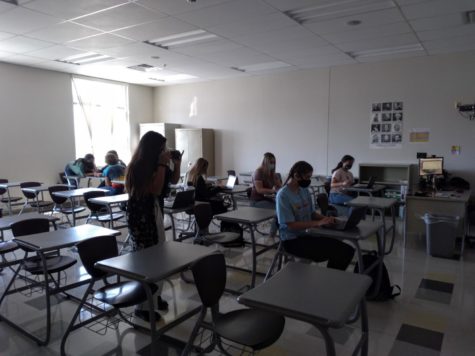 Another amazing elective at PVHS is the Yearbook class that brings your yearbook to you every year! In this class you learn teamwork and working with cameras and page creation software. They attend many events that occur at this school and document them in our yearbook, and they brainstorm for the next theme of the yearbook. Alina Veloz, one of the yearbook students, says that she learns a lot about "How to work with people and trying to compromise from two different ideas into one, and also leadership skills." Virginia Rogers, another photographer, says that she mostly does "page designs, so [I] really likes creating pages [in the yearbook]." She says that she "enjoyed learning how to use the software for designing, because it was definitely different." As photographers, writers, and team members, the students of this class are able to come together and create a book full of memories. The current Yearbook teacher, Mr. Herron, says that "Last year's Yearbook class was a self-proclaimed family. That's what I hope all of my students get to experience. Additionally, I'd love for them to grow as writers, organizers, journalists, and team members!" 
"Breaking News"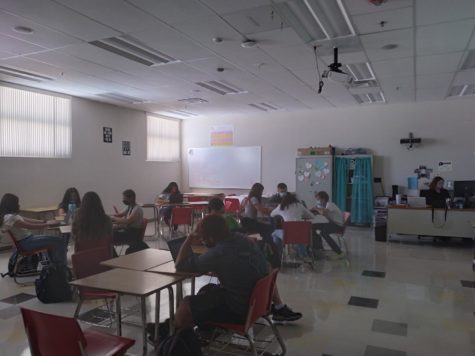 Around the school you might have seen the Trojan Tribune signs. These signs lead you to Pahrump Valley High School's very own news site! All of the articles written on this site are written by students here at PVHS who are in the Journalism class. In this class students have the opportunity to improve their writing and grammar skills along with their verbal communication skills. Interviewing and writing on a deadline are large parts of this class and they require a bit of teamwork and collaboration in order to come up with fun topics to write about. Angelica Sanchez-Quintero, one of the journalists, says that she enjoys getting to "let people know what is going on at our school." She also enjoys "taking pictures for the articles and interviewing people." Melanie Swingle, another journalist, says that she joined the class to better her writing skills, and that she is glad that relearning basic writing skills is a part of the class as she "forgot a lot of punctuation rules." According to Mrs. Sitter, the Journalism teacher, she "hope[s] that my students will gain skill and confidence in their written and verbal skills." This class definitely helps to improve writing skills and confidence with communicating with other people and is a really good class for preparing for the future.
About the Writer
Emilia Daffer, Journalist
Emilia is very passionate about reading, art, and medical news. She likes to learn about different disabilities and diseases and about staying healthy....