The Gay-Straight Alliance, Safe-Zone Stickers, and How We Are Supporting LGBT+ Students at PVHS
At PVHS the Gay-Straight Alliance is taking initiative to help LGBT teens and the club Advisor Ms. Rought is also helping distribute Safe-Zone Stickers to help students find a safe place to open up about their issues.
Ms. Rought, the Freshman Advisory teacher at PVHS, has began advising this year's return of the Gay-Straight Alliance, or GSA, a club that has been around on and off again for the past few years and has come back to stay. The club's goals are to give LGBT+ students an open space to express themselves and create an environment where they feel welcome; things youth of that community often lack.
The GSA has thus far been around for a handful of weeks this year, and have held such activities as playing board games and engaging with staff members who come to speak at club meetings. The plans Ms. Rought has for its future include inviting local business owners and representatives of The Center, an LGBT+ community center in Las Vegas, to speak at meetings, as well as fundraising to donate beds to an animal shelter.

In addition to acting as the advisor of the GSA, Ms. Rought has disseminated Safe-Zone stickers. These stickers are meant to signify to a student who may be experiencing gender dysphoria or other gender and sexuality related identity issues that a teacher is open to talk to them about their struggles. The stickers are meant to be located in the window of a participating teacher's room door. Currently, approximately 20 teachers have accepted the stickers.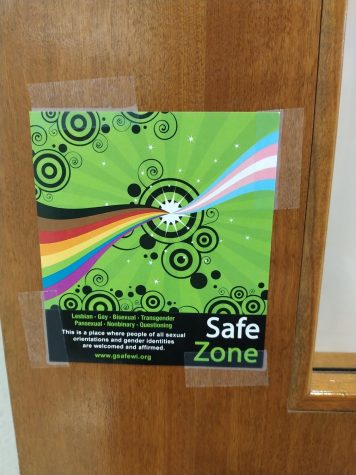 When asked about the purpose of the stickers, Ms. Rought elaborated, "if kids feel like they're having some sort of issue in that realm of where the sticker is, whether it be gender issues, identity issues, etc, that they can talk to the teachers that have those stickers in the window openly and have someone they can communicate with and feel safe."
Mrs. Bond, one of the teachers who has a Safe-Zone sticker on her door, said on the matter, "I think it's important because kids need a place to go and talk about their differences." She continued, "I think most teachers here are wanting to be helpful. Not necessarily always knowing how to be helpful, but I think that in general if you guys talk to us about almost anything that we're here to help you."
Teachers are encouraged to refer students to our social workers and school counselors if they need extra help, so they may receive additional support and guidance. There are always people at the school willing to listen to and assist students in need, regardless of their sexuality or gender identity, and staff have taken steps to make them feel welcome.