Actually Cool Things to do in Vegas
Sitting at home bored? Check out some of my ideas!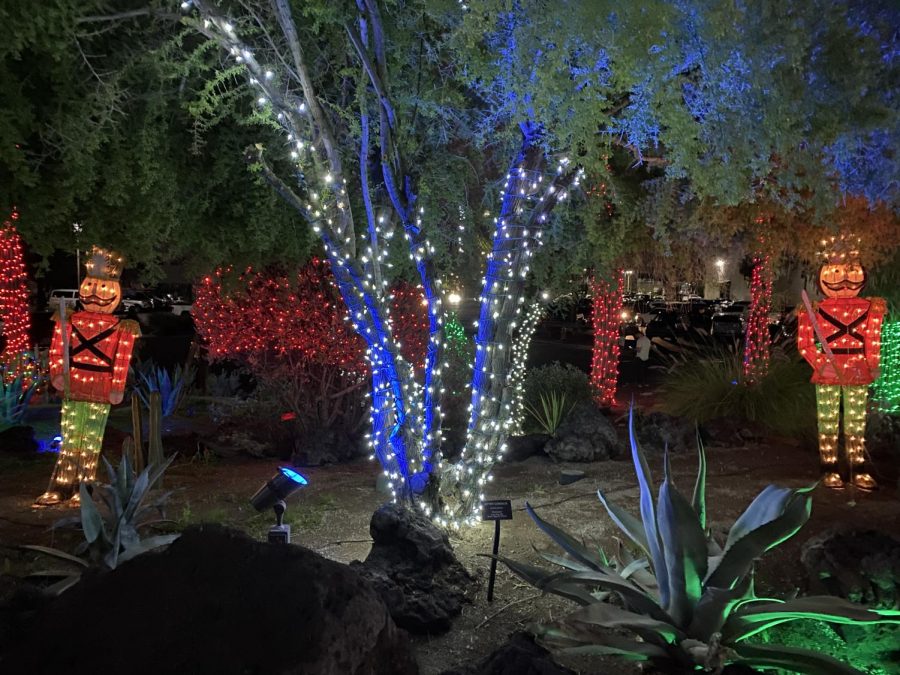 Hailey Thorniley, Journalist
November 26, 2019
I've heard so many people around me say there is nothing to do in our area. This results in many people being cooped up in their room. Well it's the beginning of the holiday season, which is a perfect time to get out of the house and spend time with people that you care about. 
      If you're really into sports, Las Vegas's Top Golf is a really sweet place to go, and especially with friends or family. Try your hand at golfing and let your competitive side flourish. It's a great way to spend time together and maybe try something you haven't tried. Its right off the strip so you'll be able to see all the Las Vegas lights while you're golfing, and you can even order some delicious food! On a Friday or Saturday from 5pm till closing you can get in for $78 for an hour. If you go to their website www.topgolf.com/lasvegas you can find more details about different times and the prices. 
   Axe Hole Vegas is a place on Freemont Street where they teach you how to throw a variety of different weapons: such as axes, knives, and tomahawks in a safe setting. It's $30 per person for an hour session. This is a great way to blow off some steam. 
   For my super sporty people on November 28, there will be a marathon. It's called the "Turkey Trot," and I can't think of a better way to earn your Thanksgiving dinner! Rock climbing at Red Rock is also an option mentioned by Mr. Herron, 10th grade English teacher.
  For all my spooky sisters, I found a haunted museum, Zak Bagan's Haunted Museum. The museum is a collection of haunted and cursed items from some iconic horror and crime cases. It's located at 600 E Charleston Blvd, the tickets are 44 dollars each, but for locals, the tickets are 38 dollars each. The outside of the building is also the perfect spot for a photo opportunity, it has a very old school, gothic style. 
   Speaking of photo opportunities, the Neon Museum is a really cool spot to take pictures and learn about the history of Las Vegas through some of the old retired neon signs such as "The Hard Rock Cafe guitar". The Neon Museum also have a Tim Burton exhibit right now called "Lost Vegas." Tim Burton worked with the creators of neon signs to bring yet another one of his visions to life. You can take a tour for an hour for 30 dollars.
    If you're into more current events rather than history, you could check out Madame Tussaud's Wax Figures. It has a collection of wax statues of your favorite celebrities, such as Beyonce or Drake. The tickets range from $19.99 to 29.95 depending on everything that you want to do or see, so check it out!
   Another great idea is you can catch a gondola ride at the Venetian. Gondolas are boats most commonly known in Italy. For a shared gondola ride it is be 29.00 dollars a person and the boat fits four people plus the gondolier (the person who pilots the boat) the gondolier also serenades you on your ride. Or you can have a private ride with you and one other person for 116.00 dollars. The ride takes you through the casino and outside so you can see the strip. 
  Check out the Lights Fest. It's going to take place at Mesquite Motorcross park on December 14th. You get a paper lantern with your ticket and once the sun goes down everyone lights their lantern and releases them. Check their website for more information on tickets, they range from 55.00 dollars to 25.00 dollars depending on when you buy them or your age etc. From the pictures on theLightsfest.com, it looks beautiful. 
   Onto my favorite section, free activities! For any chocolate lover or cactus enthusiasts, you should definitely check out Ethel M Chocolate factory. You get to see behind the scenes of the chocolate-making process, and if you feel like it, you can even pick yourself some delectable treats. After that, you can take a stroll through their cactus garden. This spot is especially beautiful during the holidays! They wrap lights around all the plants, and it's absolutely gorgeous. The garden is three acres and they decorate it with over a million lights! 
   If you're looking for a quick stop around the strip, there is a Flamingo Wildlife Habitat in the Flamingo Hotel. They have ponds with fish and you get to see the unique, pretty pink birds!  
   Another quick stop is stopping by the Mirage for their volcano show.     
   While you're on the strip another beautiful location is the Bellagio Conservatory and Botanical Gardens. This spot is also decorated for the holidays and a great change of pace from the hectic city. 
   Seven Magic Mountains is an art installation by Ugo Rondinone. Its a collection of rock towers painted neon colors and is another one of many great photo opportunities on this list. It's located on S Las Vegas Blvd, 10 miles south of Las Vegas. 
   Lastly I have some holiday activities to put you in the spirit. You can go ice skating at the Cosmopolitan. Its 15 dollars for locals and 10 dollars to rent skates for an hour. At select dates there is a snow shower every 30 minutes. 
   You could also visit Santa at most of the malls. My favorites are Galleria and Bass Pro Shops.  
   A cute little date idea, whether you have a significant other or just a best friend, is to grab some matching pajamas and watch some holiday movies with hot cocoa and cookies. 
   One of my family's traditions for the holidays is making homemade tree ornaments! It's a really good way to get your family and friends together creating something to remember those times. 
   I hope you took inspiration from my list, or it motivated you to go try some new things! Get out there and make some memories!