More Than Short Skirts and Hair Bows: Cheerleading
The COVID-19 pandemic has made sports this year extremely difficult, but the 20-21 PVHS Cheer Team has put in more than enough work to have a successful season. Coach Nielson and the team expresses her opinion on the team and the restriction the pandemic has brought to the season on the emotional value cheerleading has, how hard they work, and voice their opinions on the cheerleader stereotype.
Does anyone really know what cheerleading is or how hard cheerleaders work? 
Cheer is something that its participants deeply care about. When Varsity Cheerleading Captain Sydney Rocheleau was asked how cheerleading affected her personally she replied with the following words, "It was nice to have a family and like people to talk to." Sydney continued to talk about how the cheer team really helped with moving to a new town. While I was interviewing I noticed how social the team is while warming up. They're very comfortable with each other, there was zero awkwardness, and they were having fun. The girls on the team have no trouble communicating with each other and are not too shy to be strict with each other when needed. The team also seems to know each other very well, there was a certain flow in the cafeteria where they practice that I could not explain, but everyone seemed to be in sync. Everyone knew when to crack jokes, when to be serious, and when to relax. It was a generally enjoyable environment. The cheer team is way more than a team for these girls, that team is a family.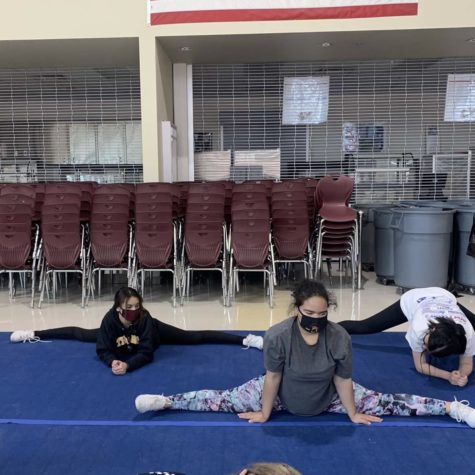 The cheer is not only another family for the girls but also a passion. The girls work hard during practice and really give it their all. When Coach Nielson was asked to describe this year's team in one word she chose "persistent". The coach continued to describe how the girls have been working hard despite the complications that this season has. Coach Nielson also said, "I get to work with a group of people that are very invested and committed to what they do." When asked how being a cheer coach affected her personally, Coach says that the team comes ready to work hard every practice and the team does just that. 
Unfortunately, a large number of people in society have a certain image and idea of what a cheerleader is and what the sport is. Generally people think of cheerleaders as pretty girls on the sidelines waving their hands around and screaming "Go Team!" during football or basketball games. The PVHS cheer team spoke very passionately on the topic. Freshmen cheerleader Mackenzie Alvarez said, "I feel like it's funny because people don't know how hard cheerleaders work." when asked how she felt about the cheerleader stereotype. Junior Varsity Captain, Ally Spahitz spoke on the matter as well and said, "It bothers me because we're not actually like that." Although a large part of cheerleading is looking pretty and supporting the team, it is not the entire sport. These girls work extremely hard five days a week to make sure that their voices are loud enough, their hand movements are precise, their jumps are high, and their feet are pointed. Cheerleaders put in all this effort into their sport only to be mocked and misjudged. Yes, an immense part of cheerleading is being the pretty girl at the game, but there is so much hard work and effort that leads up to that and it has been going unnoticed.
The team is very opinionated when it comes to the COVID restrictions. Due to the pandemic, the team is unable to do any stunts, which is a very difficult activity where the girls lift each other and toss one another into the air. The required masks have also made it extremely difficult for the cheerleaders to be loud and makes the team very tired very quickly. Freshman cheerleader Maile Nauta says, "The masks are depriving me of air." and finds cheering in them fairly uncomfortable. The games are also moderately restricted due to COVID. The cheer team is unable to attend away games and only their legal parents and/or guardians are able to attend the home games. The team is slightly struggling with the COVID restrictions but they still put in the effort and try to make the most of the season.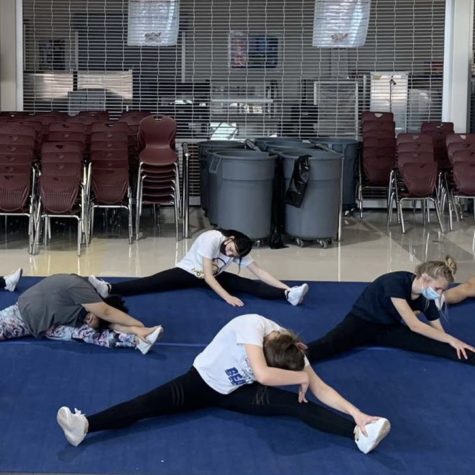 Despite all the complications that not only this season, but life in general brings to cheerleading I would say that the PVHS Cheer team really shines through. These girls always put in the work, they show dedication, and they have fun while doing it. All in all these girls deserve respect and recognition and I think we should give it to them. So next time you're at a game and you see the cheer team, show them some support.
About the Writer
Becca McElroy, Journalist
Becca is a sarcastic, talkative, and stubborn freshman at Pahrump Valley High School and is new to journalism. She loves to use writing, painting, and...