Around PVHS: Cyber Security and Computer Science
The two classes Computer Science and Cybersecurity are taught by Mr. Williams at room 217. In this article you will learn if you want to join either of those classes by hearing pros and cons of each.
Cybersecurity and Computer Science are classes some would expect for a high school; both of these classes are taught by Mr. Williams. This is his 12th year of teaching and his 4th year of teaching these subjects. Mr. Williams went to Edinboro University of Pennsylvania for secondary education for general science since then he took additional classes to learn about programming and gained an A+ and Network+ certifications. 
Mr. Williams said "Currently in Computer science the Level I is working on the basics or Python and creating image processing programs using Python. Level II is working on creating classes in Java and how that structure works. Level III is reinforcing their skills with arrays and array lists so then they can create things like battleship games in Java. The Cybersecurity class learned about hardware and software, security measures and networking in their respective levels."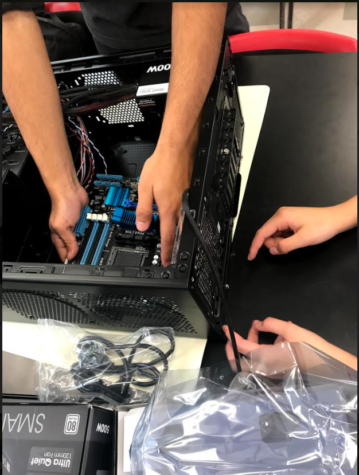 Mr. Williams expects his students to realize these programs are designed to prepare them for the workplace. That means that on task behavior and professionalism matter. Mr. Williams said "I know that work is boring, but you have to get work done before you can play and that's a very real thing in my classroom. Learning the terminology and background information is and only AFTER students have those essentials down can we do the fun stuff."
One of his Computer Science students Kaylyn Duncan said "My favorite thing about Computer Science is coding and problem solving" and "My favorite thing to work on would probably be the pretty terrible website I made. It was fun to make." Showing Computer Science is a fun class and if you like coding and problem solving it might be for you and she stated "Computer Science jobs are more in demand every day that passes so considering learning Computer Science should be a real thought to students" but "Computer Science is definitely difficult. Most of the time I can't figure out problems without help." So Computer Science is certainly difficult but it is a fun class that you can possibly use in the future. Cyber Security before COVID built computers and learned about all sorts of stuff such as hardware, software, security measures, and networking. Learning about all this would be worthwhile depending on what you plan to do for your future. It would be beneficial because certain jobs may require the knowledge about hardware. So just like Computer Science it may be a necessity or make things a lot easier later on if you join this class and pass just like Computer Science it will most likely be difficult.
These classes are difficult but rewarding with technological advancement. It may become more common for jobs like an IT specialist to be more required and needing some experience with computer science or cyber security so going through those classes now would be more than helpful in the long run.
About the Writer
Michael Salvadge-Burke, Journalist
Michael Salvadge-Burke is a freshman in high school and he never really was in a journalism class before and he always kind of liked writing for a while...