Animal Crossing: New Horizons Update 2.0
Players and fans are elated to hear that Animal Crossing: New Horizons is finally getting its 2.0 update. It was released in November 2021, after a long wait. Discover some of the main elements of this update and don't be shy to grab your Nintendo Switch, as well as your own copy of ACNH, and you too can enjoy these new features!
Animal Crossing is one of Nintendo's best-selling franchises. Last year, with the release of the 5th edition in the series, Animal Crossing: New Horizons (or ACNH for short), sales have never been higher. Most of the fans are returning players from previous Animal Crossing games, while others are people who have never played any of these games before.

What is Animal Crossing?
Animal Crossing is a life-simulation game that allows you, the player, to decorate and customize your island/town. The main idea is that you are the only human in a world full of animals. The idea was brought up by Katsuya Eguchi, a Japanese game designer, to simulate what it was like to move into a new town, be completely isolated from everyone else, and feel like a stranger. The first-ever Animal Crossing game was released in the spring of 2001, on the GameCube, and has had many sequels in the last decade. With the release of the Nintendo Switch, one of Nintendo's most successful consoles, it was vital they made a new edition to the series.

What's the big deal with this update?
Ever since the day ACNH came out in March of 2020, players of the franchise have been trying to convince the game developers to bring back certain characters or features that they've missed from older games. Finally, on October 15th, 2021, Animal Crossing: New Horizons Direct aired to reveal that an update would be coming out the following month. For all ACNH fans alike, this was a big deal. The update would release features that offer more quality of life, enable additional features to items already accessible in the game, envelope entirely new ideas, and, as well, bring back features from old games.

The Roost Café
One of the biggest jaw-droppers was the reveal of the returning Brewster. Brewster is a character in ACNH who works at the café called "The Roost" and makes coffee for the player and NPCs (non-player characters). A lot of fans are unsure of why his arrival to this game is so important to others, so Nicole Carpenter from Polygon.com shared her opinion, "Brewster's presence felt so natural given the sense of daily ritual that attracts me to the Animal Crossing franchise. I'll pull up weeds, water my garden, and get a coffee from Brewster". She believes that it gives her a new daily task to add to her already created list of everyday objectives, which flows with the way she plays the game already.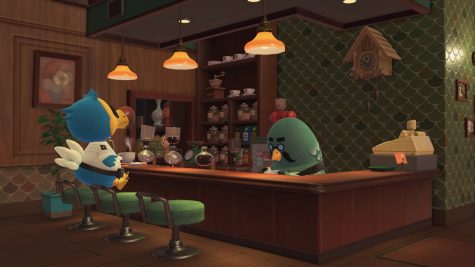 New Items/Customization
The ACNH direct also leaked new items to decorate your island with. Fans from launch are sick and tired of seeing the same bunch of items around their islands. But now, with the new update, they will be receiving over 9,000 new furniture items. Players will also be given the ability to customize any item that they choose, which wasn't previously a feature. With the expansion of Harv's island, many of the vendors you would see visiting your island will now open up shops that you can visit at any time to buy their products. As well, the beloved froggy chair will also be added into New Horizons. This item was first included in Animal Crossing: Wild World, the second edition in the series, and has been a big part of Animal Crossing lore. It has become famous for its wholesomeness and has been included in many memes over the years.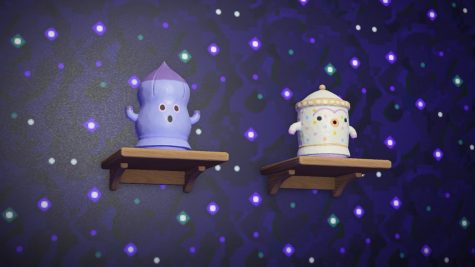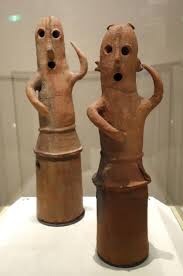 Gyroids
One of the most requested features of the update by ACNH fans is the inclusion of gyroids. Gyroids are clay-like items that dance and make fun noises, which can also be used to decorate with. Gyroids are based on real-life Haniwa clay figures, which used to be buried with the dead for ritual use in Japan. These were first added in Animal Crossing's debut (Animal Crossing: Population Growing), in 2001. A year and a half into New Horizons' life, they are being added in, which officiates that gyroids have been in every single Animal Crossing game thus far.

Happy Home Paradise DLC
Finally, Nintendo spoiled a new DLC (downloadable content) that would follow the update. An expansion called Happy Home Paradise, available for $25. This feature must be paid for to play but doesn't limit anyone. If you purchase this new DLC, you will be given the opportunity to visit small islands and decorate villagers' homes like you never have before. This expansion allows you to freely place objects on the inside and the outside of the house you are assigned to decorate. It's a process of working up and unlocking things, but it gives you plenty of customization options that have never been available. If you own this DLC, you can also change the inside and outside of your villagers' homes on your personal island, which is a big deal to many fans.

Grab your Nintendo Switch and purchase your own copy of Animal Crossing: New Horizons to enjoy these features yourself. Play with friends, explore the DLC, or discover even more features not mentioned in this article. It may be the last major free update to the game, but there will always be something to look forward to. Have fun!