Around PVHS: Golf
Pahrump Valley High School has kicked off the 2022 spring season for sports. This article highlights golf, as well as some of our players on the boy's and girl's golf teams.
Pahrump Valley High School is home to the boys' and girls' golf teams. The 2022 spring season has started for many sports, one of these being golf. To commemorate this new season, I think it's important to highlight golf and some of our players.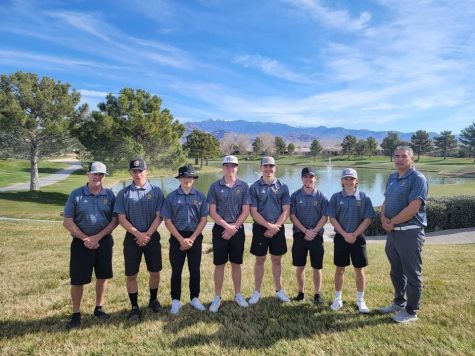 Since the 2022 season has started, many might be curious as to how our teams are doing this year. While asking Ryan Geoffroy how he believed it was going, he said "So far so great, it's looking like a winning season." Geoffroy is a senior at Pahrump Valley High School who plays for our boy's golf team. I also asked a junior, Shania Hopkins, who plays for the girl's golf team, how she was feeling about the season, and she stated "the season was filled with wonderful memories with my team, however, it made me sad seeing our seniors play their last match, but overall the most enjoyable part of my year." Overall the feeling of this season so far is a pretty positive one.
I wanted to know what inspired these players to play golf. When asking our players why they play golf, Hopkins stated, "I play golf because I grew up around my grandpa, who happens to also be the coach and advocate for trying new things. Ever since I swung my first club, I have loved the game." Geoffroy said, "it's a vibe, nothing beats being out on the course with good friends having a good time." After getting to know a little about why these players play, I wanted to know if golf was something that they have considered doing in the future. When asked this question, Geoffroy replied "for sure, it's something I grew up playing, and I will play till I'm old." Hopkins says "golf is something that anyone and everyone can do no matter the age! I'm glad to have learned from a young age the basics and play courses that most wouldn't at my age, like Bears best or courses with literal rivers and the most gorgeous scenery." The players both seem to agree that golf is a sport you can play regardless of age; it's a sport for anyone.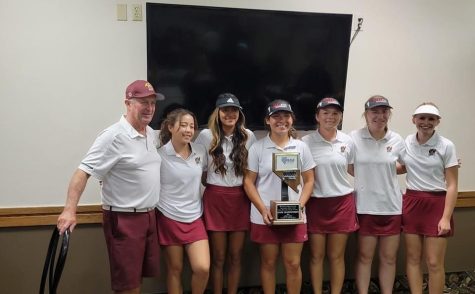 I was curious as to what inspires and motivates these players to keep playing, and Geoffroy said "my peers and coaches make everything a competition." I also asked Hopkins the same question and she replied, "I played with Breanne Nygaard and she truly pushed me to be better! She went to college for golf, and while I won't be going to college for the sport, my love has increased for it by playing around someone who truly takes the sport seriously. Also, my grandpa and the team are the most positive environment and I appreciate every match with him, and the rides to and from the courses have become my favorite high school memories!"  It was inspiring to hear what keeps these players motivated, and amazing to hear how highly they talk about their sport. 
After interviewing these players about their sport, there was a lot to take away. Golf is a sport for anyone, regardless of age, and the players have a lot of respect for the game, as well as their teammates and coaches.