Talk Like A Pirate Day
Argh ye mateys, today for the Corner of Conversation, we are pirates; or at least talking like them. The school is doing a unique event that we'll be diving into. So take a seat, stay awhile and listen.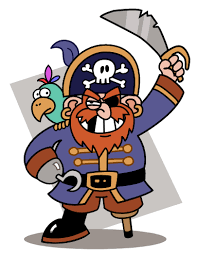 Today on the great open sea of Pahrump, we will have a blast with pirates. In High School on the 19th of September you arr allowed to talk like a pirate. At least without teachers being upset at you or confused. "Push" Just speak like a pirate. I can't wait to mess with the teachers and friends when they can barely understand what you're saying as well as why you're doing it. "Push" You might as well dress up as a pirate as well. Killing two birds with one stone would be a more entertaining thing to see as well. You could as well be a soldier from that time that dislikes pirates and do a French accent or Spanish accent. "Ready" Did you hear that? "Set" What is going on outside? *Gets up from the chair and walks over to the window.* "FIRE" *cannons firing at the writer* What the..? * a cannonball goes through the wall and hits his chair.* Oh those, Well I'm going to go deal with this problem, you should head home and get ready. If I don't see you for the rest of the day I hope you have a good morning, good afternoon, and goodnight. * The writer busts open the door and closes it behind him.* YOU DINGLEBERRIES ARE GOING TO FEEL MY WRATH FOR DESTROYING MY CHAIR.
Leave a Comment
About the Contributor
Anthony Brown, Advertising Manager
Anthony Brown, the man right now being held hostage to write papers. Somewhat new to journalism as he has some previous experience from when he lived in...