RPG club explained: What you need to know
RPG Club at PVHS plays games for their own enjoyment, some find it as a sort of therapy for their minds, and others use it to expand their imagination.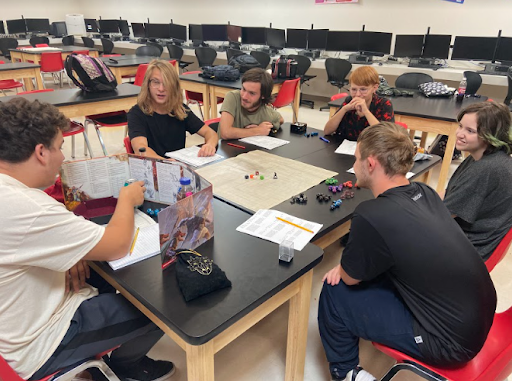 The clubs at Pahrump Valley High School vary widely, but none of them are quite as interesting as RPG Club. RPG stands for Role Playing Games and there are hundreds of games played by people all over the world. RPG Club is run by Mr. Robin Williams in the cafeteria after school on Fridays. The members all gather in Mr. Williams' room before walking down to the cafeteria to play Dungeons and Dragons (D&D). They play tabletop games, it doesn't have to be D&D it can be any other game as long as it takes imagination to play. RPG Club was founded about 13 years ago in 2011 by a couple of high schoolers who needed an advisor to create the club. The club eventually grew and moved from Mr. Williams' room into the cafeteria. RPG Club started with a game called Pathfinder, which is basically a subclass of D&D just a different name.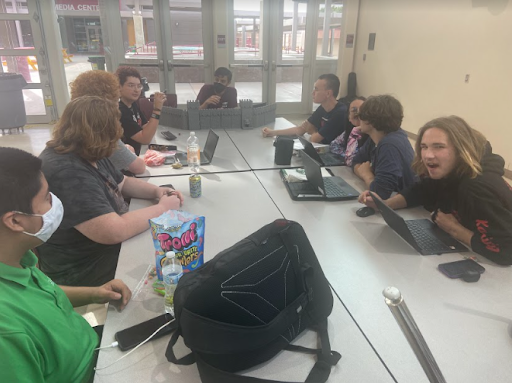 I was able to interview Legend Reigns, a member of the club, and asked him what he loved about RPG Club. He said, "you get the freedom, like the imagination of your characters get to pick what you want to do in your adventures." I also interviewed the advisor on what he loved about the club, his response was, "the best part about RPG club is the creativity that's involved." Several of the members love RPG Club and they go every week.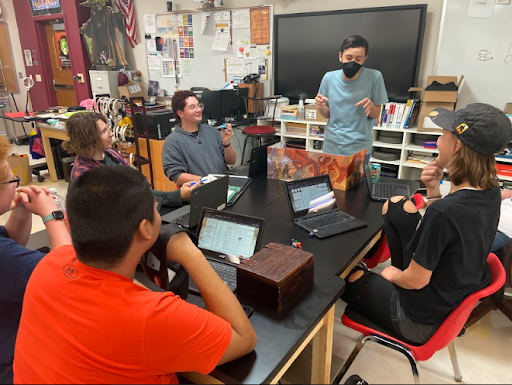 In RPG club you also have these people called Dungeon Masters, or DMs. According to Mr. Williams, "Dungeon Masters play the role of the universe, they kind of explain how things are happening and what's going on in the world." DMs choose what happens in the story and the players have to respond to the situation accordingly. I interviewed Lydia Olivas to ask what was challenging about the club, in which the response was, "it's not linear storytelling….You also have to take into account what your players might do." DMs get to create an entire world that their players have to work through; you never know what's coming. I asked Mr. Williams what he found challenging about the club, he said "the fact that there are so few limitations." 
D&D is played worldwide by loads of people. The basis of the game is fairly simple; you use a D&D character sheet to create a character. You choose their race, their statistics (strength, dexterity, constitution, intelligence, wisdom, and charisma), and the characters' details (name, age, gender, etc.) When you are in a battle with an enemy created by the DM, your attack damage is determined by the rolling of dice. When you are attacked, how much damage you take is also determined by dice. A majority of decisions in D&D are decided by rolling a 20-sided die (D20). D20s are rolled to see if an attack or choice is successful.
If you want to join or need more information, contact Mr. Williams by email, [email protected] or see him in room 217. RPG meets every Friday after school and the club runs from 2:20 to 5:00 p.m
Leave a Comment
About the Contributor
Amelia Graziano
Amelia Graziano is a passionate sophomore who is new to journalism but has enjoyed writing her whole life. She speaks her mind and stands up for those...