The Time to Cheer is Near!
The ups and downs of cheering for the PVHS cheer team.
Cheerleading is a sport that delivers benefits such as core strength, improved balance, flexibility, and endurance training. The main purpose of cheerleading is to unify the audience, typically at sports games. However, there is much more that goes into it, such as having the ability to be kind and get along with your teammates, as well as being easy to teach and ready to learn since the sport can be dangerous. Cheer began in the 1860s and has been a loved and impactful sport ever since.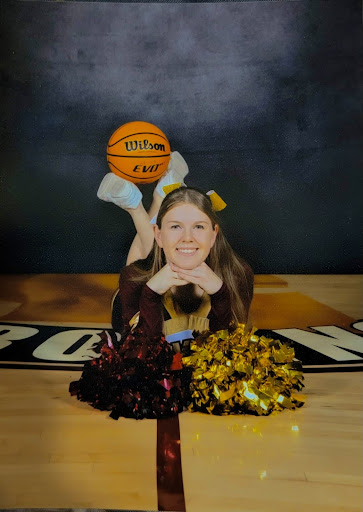 Amelia Graziano is a sophomore who is a cheerleader for the Pahrump Valley High School (PVHS) cheer team. She is on the JV team. This is her third year of cheering and the upcoming season will be her fourth. When asked what drove her to join, Graziano replied "I had a friend in middle school who wanted me to come to tryouts, so I went and I ended up really loving it." To her, the sport is an overall passion that she feels deeply devoted to. Where she is now in time, she doesn't see herself falling out of this sport she adores. Aside from the sport itself, Graziano likes the aspect of it feeling more like a second family rather than just a school team. The way they relate to one another when they get the time to sit around and talk to each other is something she will always cherish.
Their strengths as a team is their ability to help each other out and build each other up. Mostly, everyone on the team is a decently fast learner, making the new cheers they get easy to get the hang of. However, something Graziano feels they could work on is making room for more team bonding. She feels they don't really do anything outside of school or cheer. It sort of restricts them from being as close as they may want to be as well as having full trust in everything. The sport is seemingly fun, but everything comes with its challenges. For Graziano, she finds putting the stunts together a struggle along with making sure everyone is safe while doing so.
Graziano hopes that in the future she gets "the opportunity to get a scholarship to a school in Texas called Navarro College. They offer a pretty good cheer program." Every team has threats that could happen at any time, for the PVHS cheer team, they are cautious about how they are performing and how they represent themselves. They are also wary about injuries. They try their hardest to prevent any of the girls from enduring any physical injuries as well as emotional ones. Whenever the team has any problems or conflicts, they are sure to work it out.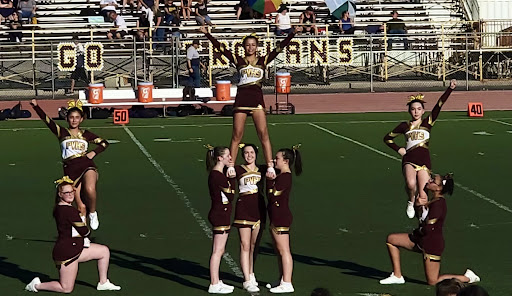 The team as a whole seems to be a safe place for the cheerleaders to be themselves, free of judgment because the other girls relate and understand. Graziano loves it when they are cheering at a game and she is "looking around the crowd and seeing their faces when they're watching either the game or us and seeing their spirit build-up is really nice." With regards to the team not bonding enough, they are going to make more of an effort to work on that, according to Graziano. Next season they want to spend time together outside of school. In the past, the captains have set up a team bonding night as well as a gift exchange for Christmas. They want to partake in more activities like that.
Next cheer season, when you see our talented team working hard, be sure to support them. If you're interested in being part of the team, go to the front office and get a packet.
Leave a Comment
About the Contributor
Shaelee Boucher
Shaelee Boucher is a Sophomore at Pahrump Valley High School. She loves writing but is new to journalism. She is excited to become a better writer in general....