Competition Season is Officially Upon Us!
After the PVHS dance team competed at their USA regionals on January 8th and February 4th, the team is ready and excited to compete at the Nationals in Anaheim.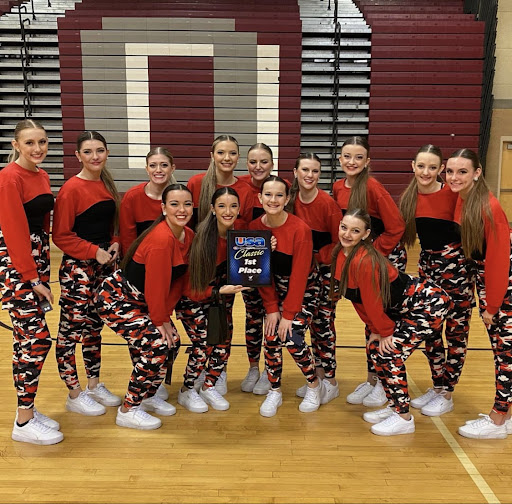 Competitive dancing is when dancers go on stage and perform their routine and are judged. It can be any style such as jazz, hip-hop, lyrical, contemporary, acro, ballet, pointe, musical theater, and more. Dancers and dances are judged on a point system and get judged in five areas; presentation, technique, performance, choreography, and overall impression. Only three judges provide their own scores; they tally the scores together to get a winner.
The Pahrump Valley High School dance team competed at Desert Oasis High School for regionals. The team performed two group dances, hip-hop, and jazz. The jazz dance placed first and hip-hop placed fifth. ¨We are extremely proud of our girls and what they accomplished!¨ Said Terri Wulfenstein, director of the school dance team along with Judy Maughan.
In the following competition, which was on February 4th, all girls competed for their solos and solos only. These were the results: In the jazz category, Lucy Smith took first and Analise Veloz took 2nd place. In the contemporary/ lyrical category, first place went to Addison Morin. Second place was Tayela Brown, fourth place was Sienna Brown, Natalie Minor took 7th place, Alyssa Eaton took 12th place, Madelynn Boruchowitz took 20th place, and finally, Kaitlin Hansen took 22nd place. ¨My favorite thing at the competition was performing my solo because I only have to worry about myself and no one else.¨ Explains Morin.
Nationals are held at the Anaheim Convention Center, in Anaheim California, from the 17th to the 19th of March. The three top-scoring soloists will perform their solos at nationals; Addison, Tayela, and Sienna. All thirteen girls will perform the same two group dances from regionals, one jazz and one hip-hop. ¨We have a great opportunity to win at nationals, which I'm super excited about,¨ says Tayela Brown.
When asked what the team's strengths and weaknesses are, Natile Minor replies ¨One of our strengths in our dances is our facial expressions. We kill them every time! One of our weaknesses is working together and being on the same page. We are a team and we need to dance like it! We also have some with timing sometimes.¨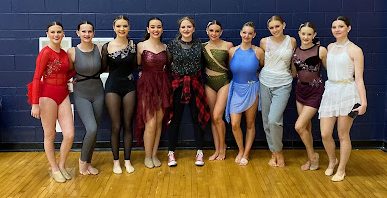 When asked about the most challenging part of dancing, ¨The most challenging thing is having to keep going. Even when you are exhausted and out of breath, you can't stop. You have to push through to the end.¨ Explains Morin, first-place winner and one of the soloists that are performing at nationals in Anaheim.
The girls are extremely excited about nationals and have worked long, hard hours to learn and nail all their dances. The team even gets to go to Disneyland while in California! Good luck to all the girls who are performing, we know you'll all do great. Break a leg out there and have fun!
Leave a Comment
About the Contributor
McKenna Cunningham, Journalist
McKenna Cunningham is a freshman at Pahrump Valley High School. She is a committed dancer at Nevada Dance Centre and has been taking classes six days a...