Who Deserved to Win?
The 2020 NBA Slam Dunk Contest was one of the most controversial in decades.
    Sports are simple. There are set amounts of points scored and everything is the result of an action. Some sports are scored by humans. humans with feelings and bias, humans who are imperfect and inconsistent. This can lead to controversy. The NBA, much like other leagues, is a league full of controversy, and they get to add to their collection of controversial moments. 
   NBA All-Star weekend is where the best of the best NBA players gather around to compete in many different competitions. These competitions include the Three Point Contest, and the slam Dunk Contest. The weekend then culminates with the All-Star Game.
   The 2020 Slam Dunk contest was intense. It saw Los Angeles Laker Dwight Howard recreate his "Superman" dunk, but that was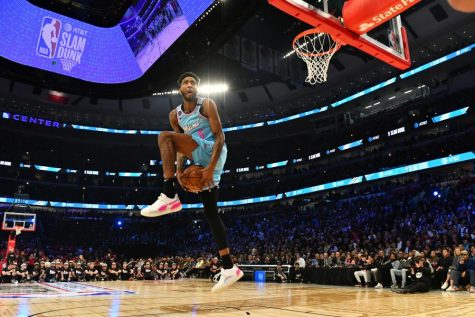 overshadowed by the duel between Orlando Magic's Aaron Gordon and Miami Heat all-star Derrick Jones Jr. They went at it hard for three straight rounds and they kept getting 50s which is the max score. The 4th round came and Jones opened it with a dunk where he leaped one step in from the free throw line, passed the ball under his legs in midair, and slammed it in with authority.
   Jones' dunk resulted in a score of 48 which left room for Aaron Gordon. Gordon saw Boston Celtics backup center Tacko Fall and told him to stand near the basket. Gordon was able to clear Fall (who stands at 7 foot 5) take the ball from his hands and slam the ball in without using Fall's body to propel himself upward. Many expected Gordon to win, but everyone was shocked when the score was a 47.
   Gordon was visibly disappointed after the loss and said in an interview that he would never do the contest again. Many think that Gordon was robbed of a win. Jones also said that he wanted to jump over Lakers legend Shaquille O'Neal, but he wasn't up for it after Hiamou Diallou jumped over O'Neal to win the 2019 Dunk Contest.
   The controversy is very similar to the 1988 dunk contest where the judges were accused of robbing Dominique Wilkins. The winner of the contest was Michael Jordan who played for the Chicago Bulls. The judges were accused of giving Jordan the win since the contest was in Chicago, the home of the Bulls. The 2020 dunk contest was the first in Chicago since '88.
   In the 2020 dunk contest, there was controversy with former Miami heat player Dwayne Wade. Wade was accused of giving Gordon a 9 to help his former teammate Derrick Jones Jr. win. Wade responded with a humorous post on social media, saying that he was not the only person to give Gordon a nine.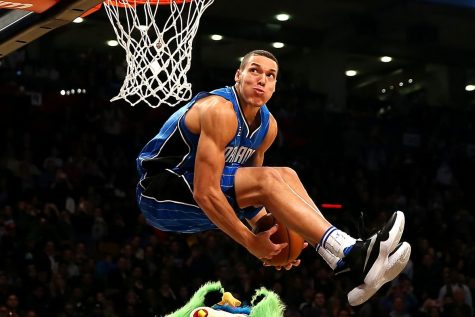 Gordon and Jones lost before in the final rounds of the dunk contest. Gordon lost controversially to Zach LaVine in 2016, and Jones lost to Glenn Robinson III in 2017.
   The judges shouldn't be scrutinized to this degree. People should put themselves in the judge's shoes and try to decide which of those incredible, physics-defying dunks they had to pick from. If Gordon won, people would have said the Jones was robbed. What made it worse for Gordon was how badly the loss demoralized him, but it could have gone the same way for Jones had he lost.
   Both Dunks were impressive. The contest could have gone either way, but someone had to win and someone had to lose. It's the big flaw sports has, only one man, woman, and team can win. No one remembers second, but Aaron Gordon's fans and family will never forget second.