The Brains Behind Student Council
The students and advisor of Student Council have been interviewed for my Journalism class. This club takes place at PVHS, everyday during 1st period and Fridays after school online. The questions I have asked entail everything important you need to know about the club and what the members themselves think about it.
Have you ever wondered what occurs in Student Council? Have you ever wondered how COVID-19 may have affected Student Council? In this article, you will learn about the inner-workings of the program, what exactly it is that the members do, how you can become a part of it yourself, and more.

Here at PVHS, Mr. Williams is the leader of our school's Student Council. Mr. William's job as advisor is to provide the students with supervision, maintain and verify their ideas, and include the student body. Meetings are held everyday during 1st period and doubles as a class, as well as on Fridays after school via Google Meet. To join the Student Council, you must either participate in the election with a speech or turn in an application once the elections are over. The positions are decided in an election by the student body. The students elect roles for each grade level including president, vice president, secretary, treasurer, and representative, and then there's student body president for all. However, there are rules and requirements for entering; you must have at least a 2.5 GPA, maintain good behavior, and set a good message for yourself and your peers in the program.

The students' job in Student Council is to plan for events like fundraisers and dances, make posters, come up with themes, promote spirit, advertise sports, and more. When asked her favorite part about it, Student Body President Mikayla Dela Rosa responded "I really love the community we have." She was inspired to join after helping another member and deeply enjoyed the experience. She also believes that Student Council has given her a lot of friends, even people who have come and gone. She says she would definitely recommend it to others as it teaches many skills.

Sophomore Vice President Alex Chaffee was interviewed and she believes that StuCo, which it is also known as, helps you connect to others, learn to become less shy, and become comfortable with public speaking. She joined after signing up in 8th and 9th grade. Her favorite parts about student council are that it makes school a better place, it gives you a chance to work as a team, and it allows you to support others. When asked if she thinks the club takes a lot of time, she responded saying that she's good at managing her time, especially this year, since there has been a lot more free time.

Sophomore Appointed Member Sofia Poulis, who was also interviewed, believes that Student Council gives you more courage and can help you in other fields as it teaches you a lot of new things. She joined because she wanted to meet new people and provide for others. She joined last year, with experience from middle school, and her favorite part about the club is how it has treated her and the chance she has had to get to know more people.

The way schools have been changed due to COVID-19 makes it hard to gather in person or learn the way we used to before. This applies to the Student Council as well. Now, the hype is gone. The way they used to promote the school dances and spread spirit is now challenging, but they've managed to create new ways to reach out to students that are fully virtual. They've created something called the "Show the Love Wall" where they can spread positivity and shoutout students who feel disconnected.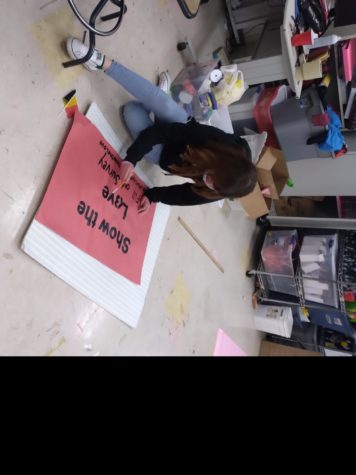 Now you have been taught more information and facts about the Student Council club. If you are interested in joining the Student Council yourself, contact [email protected]. Don't miss your chance, join while openings are still available!