PVHS Has a Dance Team?!
Do you like dancing? What about watching professionals dance? Ooh, why don't you check out the PVHS dance team? They dance really well and learn new moves all the time! I'm sure they would love it if some of the students from our school participated and saw they're work. Please check out the rest of this article to see if you'd enjoy doing dance as well.
The dance team has coordination that is insane. To simply say, they can do many moves and have been training for years. The coaches of the team are proud of each and every one of the dancers. This is important, the dancers need recognition! They've been performing for years, winning medals and regional championships.
Dance is a sport that requires elegance and flexibility, skill and experience. Elegance, flying through the air, landing gracefully, then continuing your performance. Flexibility, the moves and stretches require your body to be able to move in any way. Skill, the ability to remember everything and use it to your advantage. Experience helps in every way, shape, and form. In the Pathways gym, the team practices with extreme precision. Waiting for their next performance, they work for that medal, having fun of course! 
The main coach, Terri Wulfenstein, has been coaching for years. She has won multiple awards with her team and is proud of each and every one of them. Dance has always been one of Coach Wulfenstein's passions, influencing her to teach her daughters as well. She started coaching in the fall of 2008, leading the multiple different generations of girls who have entered the team, to victory. Wulfenstein's favorite dance style is hip-hop, finding it fun and enjoyable to teach. The Jazz routine of 2012 was one of Coach Wulfenstein's favorites, the crowd finding it extremely entertaining, Coach Maughan joined the dance team when her older daughter joined. Coach Wulfenstein and Coach Maughan have been coaching together for many years. Coach Maughan likes it when the girls do combinations of different styles and music. The competition of 2011 was a nerd hip-hop mix, making it Coach Wulfenstein's favorite performance she's taught.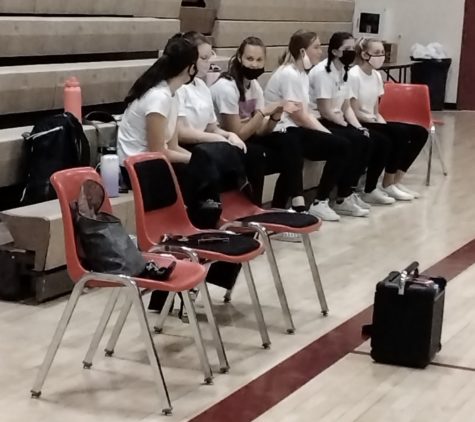 In 2006 the team won the very first Spirit State Competition, with their hip-hop performance. They've also won in USA regionals with hip hop as well. Finally, the team has won rewards at the USA Nationals! Of course, when it comes to favorite performers and students, the coaches have loved and cried with every person they've coached.  One of the few sports/clubs that haven't been affected by COVID is dance. Yes, they have to have masks, but they do all the same routines and performances. Of course, they're performances have been limited, the team performs at basketball games and football to train for bigger tournaments. 
Aliya Bolton has been dancing for 14 years. She's been dancing from the age of 2, training at a studio. Aliya sees dancing as an escape from reality and can express herself through it. She dances almost every day, outside of practice for hours on end.
Maylene Higginbottom has been dancing since 8, going to a studio to dance. Dancing helps Maylene express her feelings and motivates her to keep pursuing her dream. She dances every day outside of practice, letting the music take the lead. Both the girls joined the dance team this year and have been proving they're ready for performances. 
Come one come all! Watch the performances of these amazing dancers! They deserve recognition, most of you didn't even know there was a dance team! Thank you for reading this article, please support the girl's dance team!