Around PVHS: Furniture & Cabinet Making
PVHS hosts a variety of interesting classes. From culinary arts, to creative writing, to JROTC, there are many things happening around campus. One such example is Mr. Stalker's Furniture and Cabinet Making class.
Furniture and Cabinet Making teaches students woodworking skills. Mr. Stalker teaches a variety of skills, including "how to use different tools in the shop" and "how to use them safely".  Mr. Stalker is experienced with the skills he teaches. He owned a wood shop for 40 years before becoming a teacher. When it closed down, PVHS reached out to him and offered a job teaching there. He accepted, and has been teaching Furniture and Cabinet Making for two years. Furniture and Cabinet Making is a CTE course, meaning "Career Technical Education". This means it teaches valuable skills that can be applied to a career in the future.

Mr. Stalker finds the skills he teaches in class very important. He tells us that "There's a lot of life skills that they can learn here and use down the road, even if they don't go for that career." He enjoys teaching the class and working with the students.
Mr. Stalker's students find the class useful for the future. Student Angel Sanchez-Quitero, who has taken two years of the class, finds the class activities fun, and told us that "If you wanna go into construction, this will help you." Daniel Dilone says that Furniture and Cabinet Making will "Most definitely" help him in his life, where he could choose to make a living building and selling furniture. Students also enjoy working in the class. Dilone tells us that "I have an amazing time in this class. My best buds are in this class, and it's just really fun".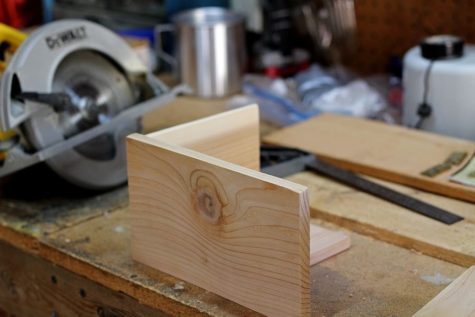 All in all, Furniture and Cabinet Making is a wonderful class. It teaches interesting and useful information, and skills that can help students throughout their lives.
For more information about this class, stop by and chat with Mr. Stalker or speak with your grade level counselor.