The Inspiring Signs of Quality Design
A business in Pahrump which handles the designing and distribution of signs, banners, and other similar materials has tried their best to make it through hard times with a positive outlook and impact on our town
The multitude of signs, banners, and designs strewn across various events and locales in Pahrump give a bright character to the environment that is invaluable to the community. The vibrant nature of these eye-catching advertisements is owed to the company that makes them, Quality Signs & Designs. 
Initially opened as Quality Signs and Banners in 2007, in 2018 the business was purchased by Darbie O'Donnell and her fiance Josh Westerman, who rebranded it and set about mastering their new trade. 
"The biggest challenge we've faced with our business was probably the learning curve," says O'Donnell. "Josh and I both do not have a history working in printing or signage prior to purchasing our business. We both were offered the opportunity to purchase the business in 2018, and we took it. We learned everything we know now about our industry by working."
O'Donnell and Westerman keep the drive to succeed by focusing on the goals ahead of them, saying that "we always remember this is a marathon, not a sprint." In terms of the success itself, they attribute it to marketing, consistency, reliability, and problem-solving. Their ability to market their business and work their way around mishaps and bumps in the road keeps them afloat and successful. 
Perhaps most importantly, they love what they do. O'Donnell particularly enjoys the creative design aspect of her job and absolutely adores crafting designs for businesses that hire her. One of her prouder achievements is the sponsor banners for the little league decorating the perimeter of Ian Deutch park, although what she takes the most pride in is constantly shifting.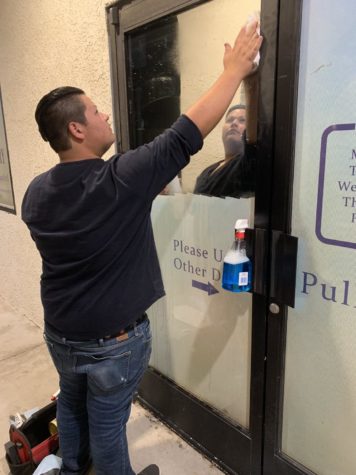 As with most businesses, Quality Signs & Designs has experienced great hardship as a result of the COVID-19 pandemic, and they have struggled to find buyers when other businesses are shutting down. They have managed to persevere through this trial however through their innovation and loyal customers, and are managing to move forward despite the odds, recently remodeling their office and looking to hire their first employee.
Quality Signs & Designs are always eager to help give back to the Pahrump community and are constantly trying to give kindness to those around them. Just recently O'Donnell completed the design of a banner for the Pahrump Senior Center that the business is donating, expressing "Welcome Home! We Missed You!"
Through willpower, kind-heartedness, and ingenuity unlike any other, the owners of Quality Signs & Designs are equipped to handle any request that comes their way, be it billboards, storefronts, feather flags, or popup banners. If you need a sign or design for whatever reason, contact Quality Signs & Designs.