A New look in PVHS
2020 was an interesting year worldwide, but in 2021 we get basketball back. This season will look a little different compared to recent seasons. Coach Taylor is no longer the head coach, and coach Wilson hopes to start off with a winning culture.
PVHS basketball, when opponents hear that name they don't seem to get very intimidated, seeing how our mighty Trojans have not been able to get a winning season in 13 years. But, our new coach, David Wilson, looks to change our school's culture into a winning one. Our boys have been training for almost a year and a half due to covid-19 restrictions but they're back and hope to do some damage in the 3a southern desert division.
All About Coach Wilson
Coach Wilson has had a very interesting career in basketball. Originally he is from Grand Island, Nebraska. After he played 4 years of high school ball he was ultimately able to take his basketball career to the next level and play collegiately at Division 2 in Nebraska. After college, he was able to play professionally in the Dominican Republic. When I asked him what it was like playing in the Dominican Republic he said, "It was fun, it was a really good time. Everyone there gets excited." He also showed some good insight on the fans and the culture the Dominican Republic brought to his basketball life. "It is kind of a poor country. The area I was in had a lot of poverty so it was fun because all those people would come out and have a good time and take their minds off life a little bit. It was a good experience." I also asked him about the caliber he faced there and how it was different to the states. "Well, you know it was a high caliber but you know what's different here is you'll have kids that are your age (16) playing in that league there was a team of 16, 17, and 18-year-olds that were getting paid to play in that league that I was playing in. We beat them, don't worry, but that's where it's different. If you know kids will play professionally right away from there and not take the college route." This is all I got to learn about our new couch here at PVHS in the short conversation I had with him.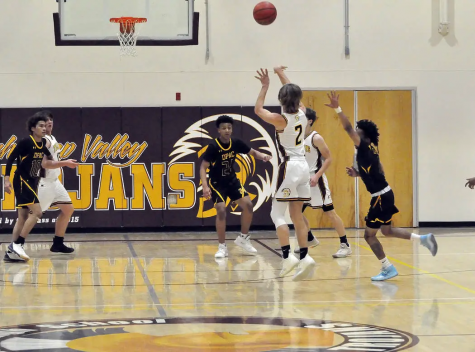 The New Generation of Basketball 
As basketball has changed over the years it seems PVHS Basketball has loved sticking with the basics. We are not known for our crazy shooting or fancy plays. This season I hope we bring some of the new generation of basketball to the forefront. In an interview with Coach Wilson, I asked him what he is going to change and what he expects to see out of his players this season. "Well I want to see us playing together as a team. I want to see us playing strong defense and being aggressive." I also asked him what his first impression of the team was. "Great kids, though they have a lot of fun and I've enjoyed being around them since day 1." I've also overheard many players talking around the school stating, "I like the new coach. It's just super refreshing having the new coach because he's young and I feel like he just has a lot of confidence in us." I am excited to see where our PVHS boys basketball team can go this year.