Unraveling the Desert Lotus Salon & Boutique
One of the best hair salons in Pahrump is being taken under a deeper perspective.
The Desert Lotus Hair Salon & Boutique is one of the best salons here in Pahrump. It is owned by an amazing woman, Alice Cummings. She has owned "Desert Lotus Salon & Boutique" since March of 2022. She previously had owned "Alice Cummings Salon" for eight years before renovating everything.
"I enjoy owning it. I can pick and choose who I work with!" Alice states. She advertises her work by running Instagram and Facebook accounts that are shared with her daughter. Her daughter, Abbie Rivera, is also her co-worker. They've been working together for two years now. Alice says, "In the beginning, I was by myself, and now she works with me. I enjoy working with her, we feel very established."
I asked, "What got you interested in this career?" Alice states, "Well, both my grandmothers were hairdressers. I always wanted to be a hairdresser, and then my parents made me go to college. So I ended up being one." She says that she plans on running this business for a long time now that she's more settled with a new location and brand name. 
Since Alice is the owner and manager of this business. I asked her, "Is it always easy to run things?" She jokingly states, "No it's not. People get mad if you take a long time doing their hair. You can't always do it, but you can try." She says that she makes good money off of doing what she loves and had always dreamed of doing.
Many people know her salon. Many say it is the greatest we have in this small town. Her salon includes a manicure and pedicure area, which is worked by an experienced nail tech. There is also a separate massage and tanning room. Overall, her salon and boutique have many opportunities for self-care. There is a section where they sell their recommended self-care products and jewelry for their customers as well.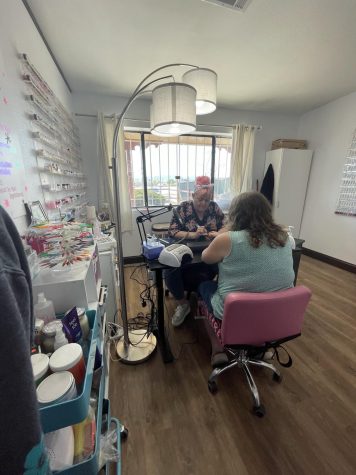 It is all run by beautiful and hard-working women! This salon is a wonderful place that you should definitely try! They can get you the look that you want in every way possible.
You can find them on Facebook at @DesertLotusSalon and on Instagram at @desertlotussalon. To book an appointment, you can reach them at (775)-910-9727, or stop by the salon at 351 Frontage Rd 351 SR 160 Frontage Rd to book as well.