Bump, Set, Spike Covid-19
The pandemic has given the world a lot of issues such as competing in sports and losing jobs. PVHS volleyball has been given the opportunity to continue to compete with other Vegas schools. All though COVID-19 is still in action the volleyball team is not going to let that stop them. Giving it their all they will not go down without a fight.
PVHS volleyball is full of tall, small, fast, and hard working ladies. As the season has only just become they are working harder than ever to become better than they were the day before. Head Coach Jill Harris has been coaching for 21 years and has had astonishing experiences each year as many new freshmen come in and tryout. With the youth coming in every year our team is getting better and better. Freshman Outside hitter Kristie L'Heureux said that "playing volleyball at the high school level is interesting. It's very different and the team work is easier because everyone is focused." As these girls are able to play, they are now playing for themselves knowing they do not have a state championship on the line due to the pandemic suspending their season and making them start their season at a later date. When I asked Varsity middle blocker Nickelette Velasquez, if it's hard to stay motivated without a state championship game to strive for as a senior, she told us "It isn't hard for me to stay motivated because I love this game but it does suck there is no state this year for my team and I to compete in ".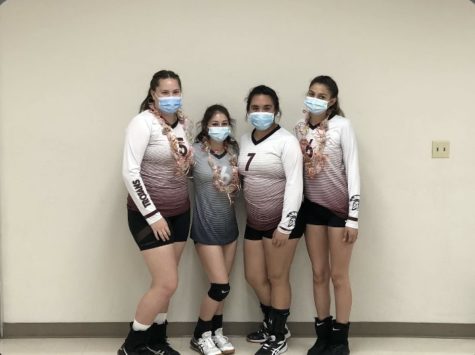 Leadership is every coach's main thing. When I spoke to coach Harris about leadership and how it was important to her she was very adequate about it, "Well duh everything needs a leader."  After I spoke to one of Harris's leaders, Nickelette Velasquez asking her the same question, "actually I have been working hard to get better at leading. It used to be kind of hard to keep my frustration from showing but I have worked hard to fix it for my senior year." In my interview with the coach we also spoke about something she has for this team without a state championship in mind. "I would like our team to work hard, try their best and pull through with the season."  
COVID has impacted everyone's season. Some in good ways, some in bad ways. When I talked with Junior setter, Tayla Wombaker, I asked how COVID 19 has affected her volleyball season "it sucks, that we can't have people at the games and we have to wear masks. It's just like that atmosphere is different and makes it less fun to be around the game." There have been no fans at the PVHS girls volleyball games, except their parents of course and they have to wear masks while they play which makes it even harder. Although they still get the high school experience of riding the bus to their games like Virgin Valley, Moapal, etc. They still have COVID protocols they have to follow in to be able to play. I have spoken to 3 different Varsity players about how their season is going and they all said it was going great, but interestingly enough Nickolette Velasquez said," this season helped me expand my confidence as a leader."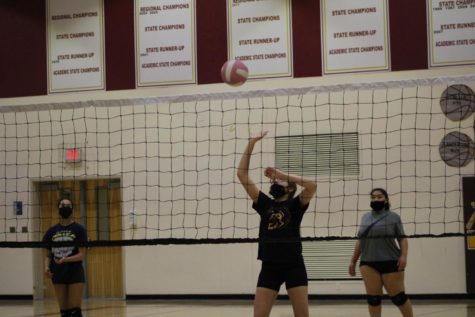 2020 was a crazy year to remember but as we have gotten into 2021 life has begun to take a change for the good. 2020 tested everyone's will power and these girls all worked super hard to be able to play the sport they love. As they continue their season they hope to continue to bump, set, and spike COVID 19 away for good.