Golf is Back in Season!
Girls Golf is making a comeback and showing COVID-19 what's up! Their season may be short but they got a long way ahead of them and they will continue to push on and work hard!
Due to COVID-19, winter sports were cancelled for the entire year. Fall and spring sports, on the other hand, have been given the green light to continue and play on! The PVHS girls golf team is a fall sport and unlike spring sports, they had a chance to compete in regionals at their home course, Mountain Falls Golf Course, and even had taken 2nd in state last year at Boulder City Golf Course. Coach Hopkins and the girls were shortened a season and have only six games scheduled this year, but they continue to play on and enjoy what is left of their season.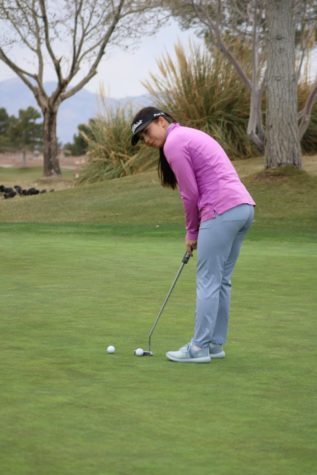 Last year the girls had six varsity players consisting of two juniors, three sophomores, and one freshman. This group of student athletes, Breanne Nygaarrd, Anastatssia Furman, Toni Smith, Alyssa Homles, Sherrie Monjaras, and Shania Hopkins, alongside the head coach Robert Hopkins and assistant coach Mr. Nygaarrd, had won first in Regionals as a team and as mentioned before had gone on to take 2nd in State. Before COVID hit, these six girls were expected to come back this year and take back 1st in State. Unfortunately, COVID-19 took these girls for a storm and they had to make some changes. Senior Anastassia Ferman moved, so she was unable to play this year, so Coach Hopkins had to make an adjustment and welcome one of the new freshmen, Emily Gent, to come and play with Varsity.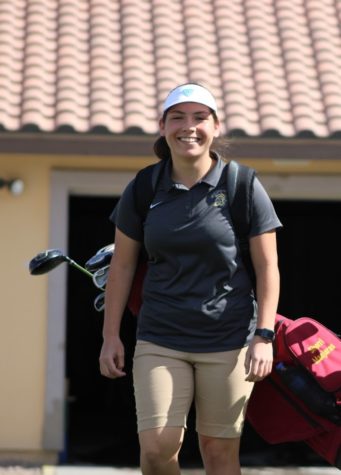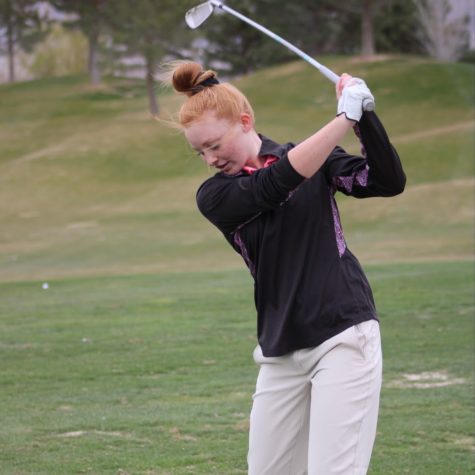 The girls' golf team even with a short season, practice from Monday to Thursday. "We've been practicing on the Mountain Falls Golf Course a lot, playing the front nine, putting and going to the range." said Monjaras when asked about how they prepare for their matches. Some days the practices go from 1:30 to 4:30, and sometimes they end short. No matter how long the practices are, they still focus on having a good attitude and bonding as a team. As Coach Hopkins stated, "It's a growing season for our girls!"
When interviewing all the varsity players, they all had the same thing to say, "..it sucks." You could see the face change when mentioning COVID and how Regionals and State were both taken away from these six girls. Four of six of the girls had played varsity prior to COVID and were shocked and saddened by the news that they weren't all going to be able to win a State title for Breanne and their two coaches.
Breanne Nygaarrd, has played a big part in the success of this team. When asked how COVID had affected her season, this is what she had to say, "It's disappointing that we don't get a season, especially since it's my senior year. It's a little disappointing that we didn't get State and things didn't turn out the way we wanted them to…Our team has built up a lot since my freshman year, so we had a really good shot at State this year." Breanne has earned a D1 scholarship for golf, and after her high school golf season has ended she will be attending University of St. Thomas, Go Tomcats!
Despite everything, everyone goes out and still tries to make the best of this unfortunate situation. With Breanne's last year and welcoming on a new member of the team, these girls have really pulled together and make it seem like COVID never affected them. If you would like to join or are interested in golf please contact Coach Hopkins via email! [email protected]
About the Writers
Shania Hopkins, Journalist
Shania is a Sophomore who loves crafting, baking, playing sports and being around others. She is very social and enjoys talking with others! Shania aspires...
Sarissa Delaney,
Sarissa is a sophomore at PVHS. She has been writing since fifth grade but this year is her first Journalism class. She have one younger brother who is...