Kobe Bryant: A Basketball Legend.
Kobe Bryant and her Daughter Gianna tragically passed away in a helicopter crash on January 26, and many will never forget them.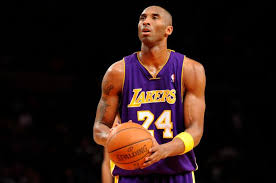 Jonathan Rios, Journalist
February 12, 2020
   Every so often the sports world is gifted an incredible athlete, someone who defies the laws of physics and shows us what the human body is truly capable of. Oftentimes, we think these people are indestructible, that their careers will never end, but they are humans just like everyone else.
   January 26 was supposed to be a fun day with the Pro-Bowl and the start of Super Bowl week. Instead it was a day marred by tragedy when at 11:00 AM the media announced that NBA legend Kobe "Bean" Bryant was killed in a helicopter crash near Calabasas, California. 
   At first nobody wants to believe it in an age where anything can be faked. Soon it was confirmed and everyone was shocked. More news arrived and it is confirmed that Kobe's daughter, Gianna Bryant was among 7 others who lost their lives.
   Everyone involved in any form of U.S. sports, from hockey to football, was devastated. A vigil was set up outside the Staples Center in Los Angeles and a moment of silence was held at the Pro Bowl. Almost every athlete expressed their condolences and spoke their thoughts, their pain and their distress.
   Kobe's teammate and Lakers legend Shaquille O'Neal said "I have never felt a pain this sharp in a while." 
   When basketball fans heard of this death O'Neal was the first person who came to the minds of many as O'Neal and Bryant collectively won 4 NBA championships with the Los Angeles Lakers. Seeing the normally playful, satirical O' Neal this sad was heart-wrenching for many including myself.
   Current Laker Lebron James was also devastated as the night before James passed Bryant on the all time points list to move into 3rd place. In a tweet James said that he is willing to carry the torch and continue Kobe's legacy.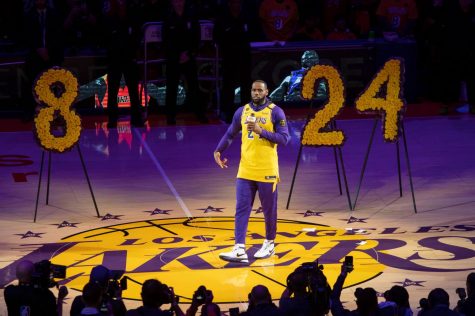 Tributes included an 8 second backcourt violation and a 24 second shot clock violation in honor of the two numbers Kobe had in his career. The Lakers postponed their game against their city rivals the Clippers.
   Many who wear number 24 or 8 in the NBA have switched to a different number, and fans started a petition to change the NBA logo, but the NBA released a statement saying that they have no intention to change the logo from Lakers Legend Jerry West.
   At the Lakers first game since the tragedy, Usher performed "Amazing Grace", and Lebron James made an emotional speech right before introductions.
   "As Kobe would say 'Mamba out,' but to us he will never be forgotten."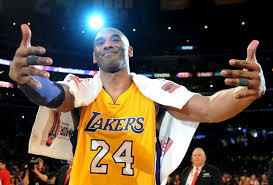 The Lakers played that night in a 127-119 loss to the Portland Trail Blazers. Many fans were alright with the loss since Blazers point guard Damian Lillard played his
heart out, and contributed to the Blazers' win (48 points and 10 assists along with 9 rebounds)
   Kobe had an incredible career with 5 NBA Finals championships, an MPV, and 18 All-Star Game selections, the 2nd most in NBA history. He spent his 20 year playing career with the L.A. Lakers after being drafted and traded from the Charlotte Hornets. He ended his career in 2016 against the Utah Jazz.
   The effects of this tragedy are starting to pass for some of us. Sadness is turning to nostalgia and fans are starting to remember Kobe's legacy in a positive way. This teaches us many life lessons, to treat every day like it is your last, and value your elders and family members. In the blink of an eye everything can change, so make every blink count.