New Small Business? Come check out Death Valley Marketplace!
Alina is the owner of the Death Valley Marketplace that sells awesome things!
The Death Valley Market Place is a new small business in Pahrump. It is located at 3280 Bell Vista Ave. The owner, Alina Quinata, choose her store location when Mr.Quinata, her husband, and her children moved here from Hawaii. When they decided to live in Pahrump and were driving around one day, they realized that there weren't any facilities in the area until they got to the Horizon Market and they had to go through the smelly casino. When they got to the bathroom there was no toilet paper and overall was a really bad experience. She was shocked at this because coming from Hawaii, there is tourism every corner you turn. There are people selling T-shirts, coconuts, banana bread, magnets, etc. They chose to set up their location here because about 1.4 million people drive from Las Vegas to Death Valley. They go through Pahrump and they do not have anywhere nice to stop and use the restroom.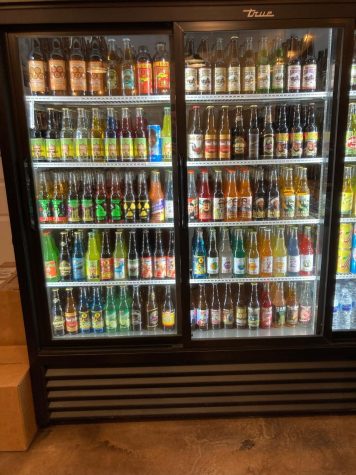 The whole process took them about two years with the COVID lockdown and the events that have taken place in the last two years. They have been open for about five months, and they have seen so much growth in their business. "In the business, once you open it…it's kind of like a boat where you don't know, you just have to jump in and figure out how to keep paddling to keep afloat." In a way, it is like a leap of faith, because it takes a lot of courage to start a business. She says that people have asked her why she didn't have a "grand" opening, her answer has been," We are not grand yet, when we are grand then we will have a grand opening."
Alina has faced some challenges with running her own business because sometimes she doesn't know what people want so it's like a gambling game. When people want things, then they buy it and she knows what they want. "If I have shoes and if people don't buy them then I know not to buy them." There are many advantages in their location. The whole reason that they choose their spot was for tourists, and if people want something then they go buy it, and there are not any disadvantages in their spot. Even if there were disadvantages then that wouldn't really be a big issue because they could just work around it. Their shop isn't only for tourists it is also for locals. 50% of the people are tourists and the other 50% are locals. Inside they sell different flavors of soda, a huge variety of saltwater taffy, they make shirts, and they also sell lotion, soap, hand sanitizer, etc. 
Some of her future plans are getting ice cream and making a bigger parking lot so trucks with trailers, RVs, and semi-trucks can get in because the one they have is too small for that kind of thing. So, if you want to check it out you should totally go because they sell a lot of good/cool things and she, and her employees, are super nice and you feel right at home.